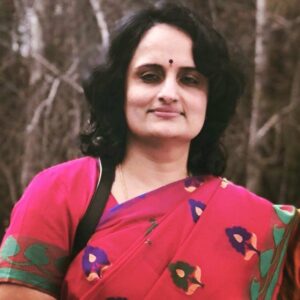 Our community spotlight this month is on Pratima Penumarthy (Founder and Director of Arya Math Academy). Yogita Miharia of IAGB spoke to Pratima about her involvement with various non-profits organizations and her work.
Yogita: Thank you Pratima for talking to IAGB. Please tell us about your volunteer work.
Pratima: I am an educator and a volunteer. I am associated with many charitable organizations that I feel passionately about. I started doing volunteer work over 10 years ago. I believe that by immersing myself in community service, I learn so much about how the world works. 
The non-profit organizations that I am actively involved with are Team Aid, Sruthilayalu and Bighelp. 
Bighelp is for education of the underprivileged children in India. I am a past president of the NH branch. As a Chapter president, I focused mainly on STEAM EDUCATION. STEAM utilizes the Arts along with traditional STEM subjects as access points for guiding student inquiry, dialogue, and critical thinking. The end results are students who take thoughtful risks, engage in experiential learning, persist in problem-solving, embrace collaboration, and work through the creative process. Students can make connections and learn in a variety of ways, reaping the benefits that a STEAM education can provide. STEAM education is crucial to educate and prepare the next generation of the American, and global workforce, and to allow this generation to create jobs and grow the economy.
Sruthilayalu was formed to promote Carnatic music skills and awareness. I was the event coordinator for Sruthilayalu in 2017-2018. Their annual event brings together like-minded people where they can learn from each other and get a platform to perform. The event serves as a fundraiser for a different charity every year.
I have been a coordinator for Team Aid since 2019. Team Aid is a global organization. As a Team Aid coordinator, I try my best to help individuals during chaotic times with unexpected tragedies, especially tragedies that they are unprepared to resolve on their own. I'm very proud to be associated with Team Aid that was founded in 2017 on one fundamental principle: Helping people living abroad that need assistance after experiencing devastating circumstances. 
I have also been a math coordinator for Easton Lions Club since 2016. 
I was a member of the the Easton Human Rights Committee board from 2016-2018. The Committee is a group of dedicated members who work together building a stronger, more unified Town—free from bigotry, hatred, intolerance, and disrespect.
Yogita: Tell us about your professional work.
Pratima: I hold a B.S. in Electronics and M.S. in Education. I have always been interested in the field of education and prefer to work for myself. I strongly believe education promotes gender equality and peace. With this as my goal, I started Arya Math Academy in 2017. It was exclusively started for math, but then grew to other subjects. Math has always been my favorite subject. Our students are either college students or high school students. 
I also run a preschool and day care since 2008. 
Yogita: Pratima, tell me about your forum "Caring for aging parents (Indian-American way)"
Pratima: I started "Caring for aging parents" in 2018 out of my own need and experiences. My parents came to live with in 2017. My mother had cancer, and I learned a lot taking care of her and catering to her medical needs. I learned about resources the hard way and wanted to share with people in similar situations.  That is when I decided to started this forum. It is a forum for caregivers, and to help them get resources. I know firsthand that caregiver burn out is a common problem and hope that this forum can be a lifesaver for some.
Yogita: What is it that you wish people would know about caring for aging parents?
Pratima: Every caregiver needs to advocate for themselves. Caregivers are the emotional support of people who cannot take care of themselves. But when you are a caregiver, along with making your patient your priority, remember to also take care of yourself too so you don't burn out. Never forget that any sort of volunteering is a sacrifice. You will discover the benefits outweigh what you miss. 
Yogita: With all the work you do, what is your biggest challenge?
Pratima: I love to travel but I cannot do it much as I have to be here for my father. I want to do justice to my father but the quality of my life has to be compromised. I have no regrets but I do miss out on many things. But honestly Yogita, my perspective has changed so much and I look at things differently now. 
Yogita: If you did not open Arya Academy and were not involved with all the volunteering work, then what would you be doing?
Pratima: I would have been a professor at some college. But I am glad with what I am doing right now as my current work gives me the flexibility to care for my parents which wouldn't have worked if I had a full-time job.
Yogita: With the number of things you do, you certainly need a break here and there. What do you do for fun?
Pratima: Reading, reading and some more reading. I enjoy non-fiction especially philosophical books. I also read a lot of books on various elderly health conditions. And I get my travel fix by reading books on travel.
Yogita: Tell us about yourself and your family
I was born and brought up in New Bombay. My father was a professor and mother a teacher. I came to the US in 2004. I have 2 daughters, both in college now. My husband Ram is an active member of the community and President of TAGB.
Yogita Tell me something that not many people know about you?
Pratima: I am very social but not a party person. I can blend anywhere but I have my close set of like-minded friends with whom I feel comfortable. But I am always available for whoever needs my help. Oh, and I am not a very materialistic person. 
Visit the Facebook group https://www.facebook.com/groups/2465100087144956 to learn more about "Caring for aging parents".
–Yogita Miharia