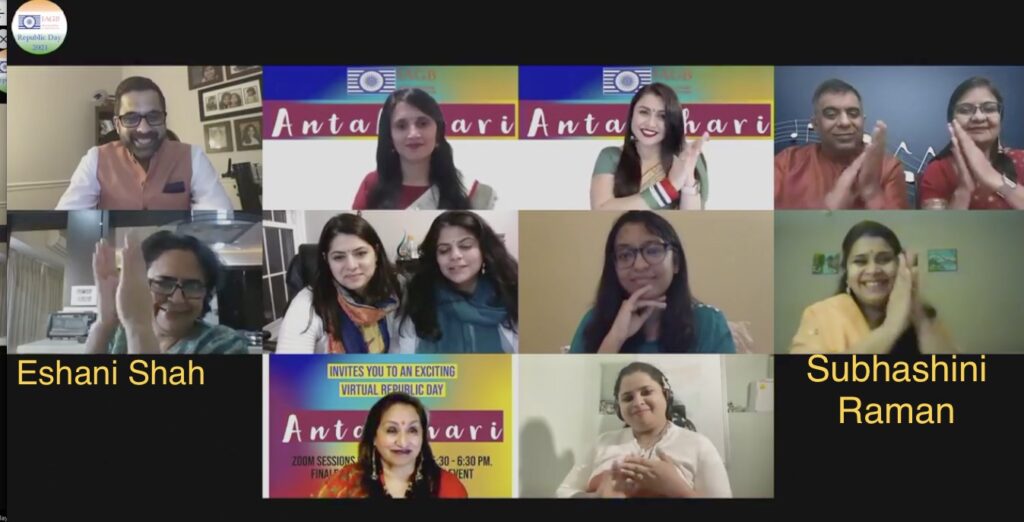 Baithe baithe kya kare, karna hai kuch kaam;
Chalo shuru karo antakshari, leke Prabhu ka naam.
Most people that have grown up in India know these words by heart! It was the launch of an hour or two of musical entertainment. Singer or no singer, everyone got an equal opportunity to sing their hearts out. Yes, that is our beloved Antakshari! 
IAGB's version of Antakshari is very well known and popular in the New England area. Though the challenges this year were big, so was the need for it. Once the IAGB Antakshari team was formed, the most obvious questions we were facing was how to make it fun and competitive in the virtual environment keeping up the true spirit of the game. But where there is a will, there is a way. The team of Lata Rao, Prag Singh, Vaishali Gade and Yogita Miharia got on the task early in December 2020. 
All the rounds were telecast live on Facebook and YouTube. Every preliminary round consisted of 4 new teams, each team with 2 participants. And out of every prelim, 2 teams progressed to the semi-finals. All in all, 4 preliminary rounds, 2 semi-finals and 1 grand finale. Antakshari became a regular Saturday 5:30pm entertainment for many who watched it live on Facebook and YouTube. After a fierce and passionate battle, the winning team proved themselves as the new Antakshari Champions. 
The WINNERS:
Eshani Shah and Subhashini Raman
The RUNNERUPS:
Sulu Nadkarni and Soniya Goel
The FINALISTS:
BollyBuffs: Eshani Shah and Subhashini Raman
Music Lovers: Divya and Pawan Lalwani
Nightingals: Nirupama Rachuri and Anupama Rachuri
Spice Girls: Sulu Nadkarni and Soniya Goel
Youth singers from the Boston community dazzled at every Antakshari event. The talent and rhythm of these youngsters is etched in our minds forever. Our heartfelt thanks and best wishes to these young stars:
Anusha Kulkarni

Neha Panke

Nilanjana Nambiar

Rishabh Nair

Sachi Badola

Fun fact: The word Antakshari is derived from two Sanskrit words antya (अन्त्य) meaning end + akshar (अक्षर) meaning letter of the alphabet. It is said that Antakshari was originally present in the Ramayana, where rishis (sages) sang the first verses of bhajanas continuously by singing another Bhajana beginning with the last letter of the ending word. Antakshari was mostly a family pastime until a TV show on Zee TV made it an actual competition.
–Yogita Miharia