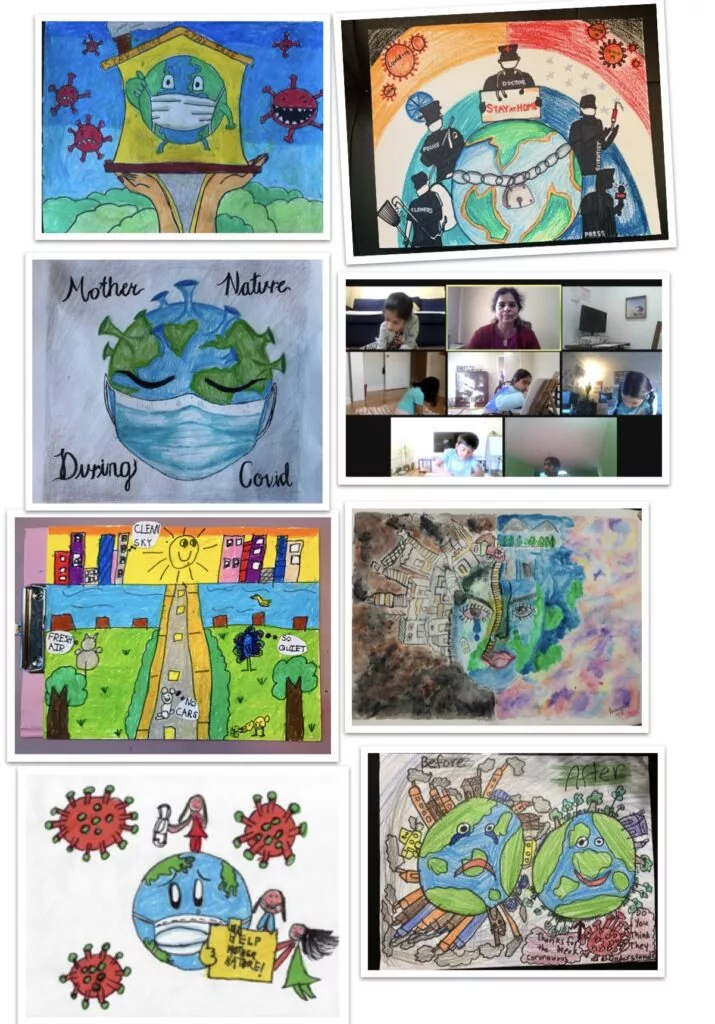 "The aim of art is not to represent the outside appearance of things but their inward significance." – Aristotle
This is the perfect quote representing the activities and motivation behind the recent art competitions held by IAGB as part of Republic day 2021 celebrations. Over the past year, we have all learned to adapt and do things virtually but to conduct an art competition virtually, of all, was quite something. Another first time amongst every so many we did this year!
The New England community proved it once again by gearing up and have their creativity unfold on January 23, 2021 over Zoom. There were 43 artists – ages 5 years and above. What was heartwarming was to see a mom/daughter duo, siblings, and cousins all with one theme in mind, "Nature in Covid times". Preparations started weeks ahead with the esteemed judges – Sunanda Sahay, Java Joshi and Gopika Narula, ably assisted by IAGB youth leaders, Nithya Raj and Ruhi Shroff, along with a new artist in the area, Rupa Krishna. 
Each of the artist was given 60 minutes and they had to be present on the video camera throughout the time of the competition and could not consult with anyone or any material. It was interesting how each one of them enthusiastically brought out the theme beautifully – some directly, others succinctly which made the judges' decisions to pick the top choices difficult. Winners were judged based on originality, creativity and relevance of artwork to the theme. Overall, it was an overwhelming success and everyone walked out proudly with their piece of art proving to each of them, how well they did!
Winners of the categories include:
Category A – 5-8 years  
1st   Kaira Agarwal
2nd  Yashika Pal
Special mentions – Ashwani Eyalarasan, Indira Singam
Category B – 9- 12 years
1st   Avni Bansal
2nd Akshita Aare
Special mention – Ramya Ramanathan
Category C – 13-16 years
1st – Ananya Bansal
2nd – Vismaya Ashok
Category D – 18+
1st – Shraddha Rane
–Jeyanthi Ghatraju