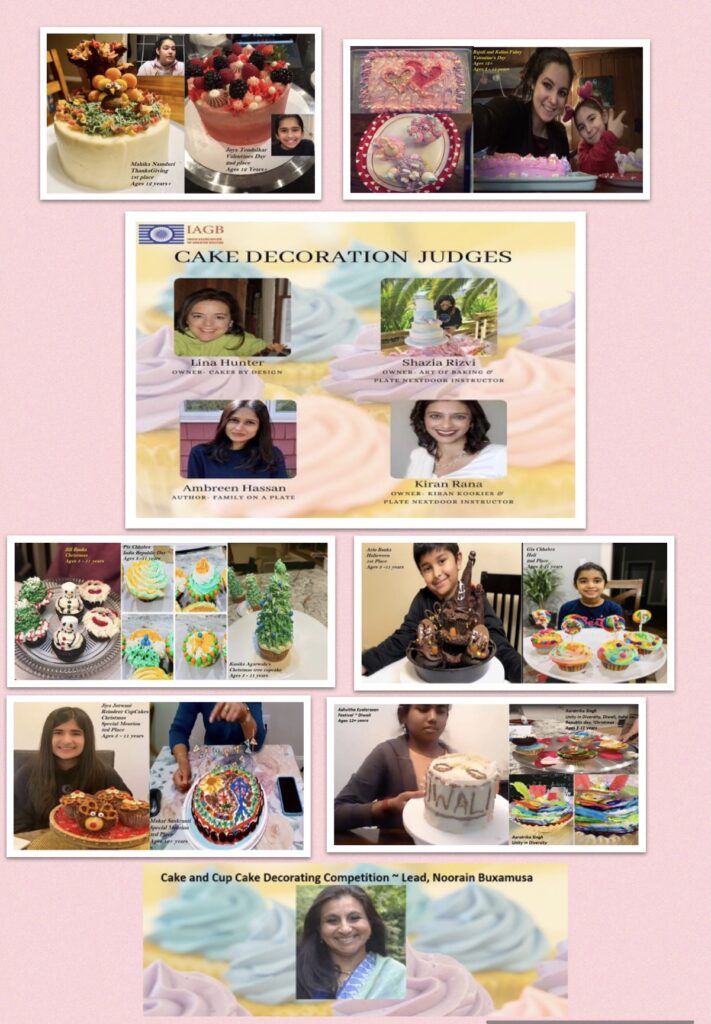 Supriya Shekar, IAGB RD 2021 Competition Segment Lead and Owner of PlateNextDoor, the Competition Prize Sponsor, kicked of the competition promotion last Dec 31st, comparing it to 'The Great British Baking Show, LIVE on TV".  Our event was streamed live on Facebook and YouTube and lasted all of 2 hours.  
It was our first in trying a virtual LIVE Cake decorating competition and we were unsure on how to run the show remotely.  On the day of the event, with each competitor having two video connections, we went impromptu, interacting and observing each participant work from their own kitchens, decorating their cakes and cupcakes.  The judges also virtual, engaged with each participant asking relevant questions, keeping the audiences engaged!  
The competition was a great success; more from the amazing creative and artistic decorations as seen in pictures below, making it hard for the judges to select final winners. Our four Judges, bakers in their own right had to judge on several criteria's.  Starting with neatness, piping skills, originality, well balanced color, recognizable theme of "Any Holiday through the Year." Finally adhering to all competition rules comprising on size of cake, frosting type used, decorations made live and completing in 60 minutes.       
The overall event was well summarized by our supporting Youth Leader, Sarina Chand, "Cake decorating is an art that was beautifully displayed during the cake decorating competition. People of all ages participated, and created beautiful cakes! Everyone worked hard, and though there were only a few winners in the end, everyone's cake deserved a prize. Throughout the competition, I enjoyed watching everyone's technique and seeing their cakes take shape. I especially enjoyed seeing the vibrant colors used in the unique designs. I can't wait till next year to see more!"
More on the event from some of our participants on the overall competition experience:
Kanika Agarwala, Ages 5-11, "I enjoyed this competition and learned a lot. This was the first time I participated in a baking contest. The only thing was that I felt that it was a little bit too long."
Gia and Pia Chhabra, Ages 5-11, "We really liked participating in the event.  It was our first time.  It was well thought out and well-coordinated.  Also, was good to connect with Indian community, and impressive to their presence in greater Boston area.  Liked that the theme was festivals and especially liked the creativity and learning more about Indian festivals". 
Ashvitha Eyalarasan, Ages 12+ "I had a really fun time for this and I loved it. It was really cool seeing everyone else's decorations!"
Mahika Namduri, Ages 12+. "The whole event was well organized and welcoming. I had a lot of fun participating in it. I also really appreciated the selection of judges as I was able to meet experienced local bakers. Thank you."
–Noorain Buxamusa