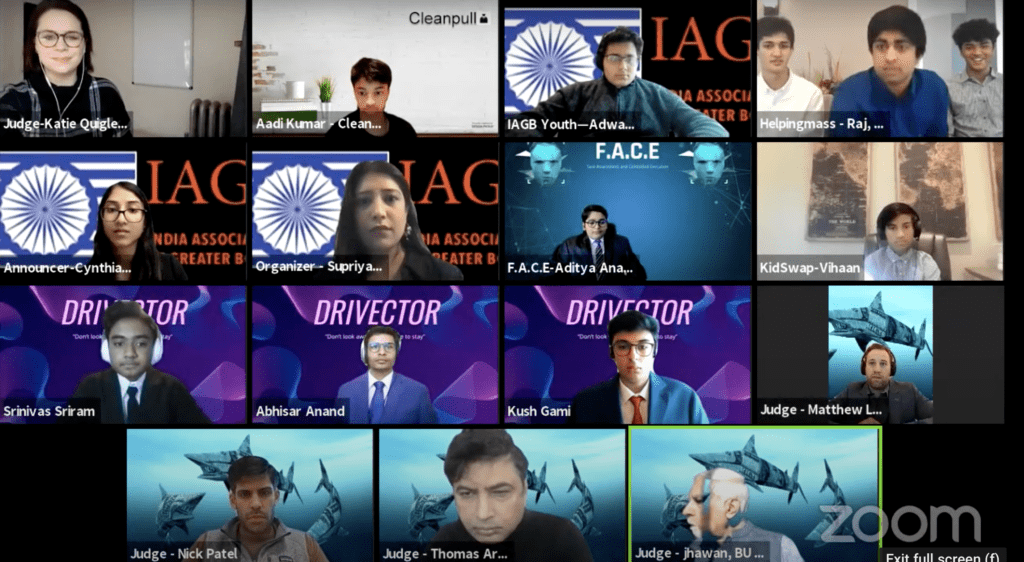 IAGB annually hosts a Junior Shark Tank event, a pitch competition for aspiring young entrepreneurs to introduce their ideas, receive feedback, and potentially take home a prize along with a range of valuable skills. From the beginning, this competition has served to uplift the children of the community and support them in their entrepreneurial endeavors. Thus, the Junior Shark Tank is first and foremost an experience to grow and learn. 
On January 23, 2021, 7 groups of students participated in the Junior Shark Tank held virtually, organized and run by Supriya Shekar and Cynthia Rajeshkanna. Each team pitched a phenomenal business idea. Before the competition, the students prepared comprehensive pitch decks, and they received feedback. The participants were able to revise their pitch with this feedback in mind before submitting materials to the judges. 
On the day of the actual pitch, two groups competed in the high school category, consisting of students from 9th grade to 12th grade. The remaining five groups competed in the category for younger students from 5th grade to 8th grade. 
In the high school category, Abhisar Anand, Kush Gami, and Srinivas Sriram pitched Drivector, and they received the winning prize of 500 dollars. Yuvi Gahlaut, Raj Taylor, and Akhil Janapareddy pitched HelpingMass, and they received a generous donation of 1,000 dollars towards their initiative. 
In the category for younger students, Rishabh Tole pitched Class Notes and won the 500 dollar first-place prize. Aditya Anand pitched Mask_PI and won the 300 dollar second-place prize. Arush Shangari pitched KnowledgeVue and won the 200 dollar third-place prize. 
Finally, both Aadi Kumar who pitched Cleanpull and Vihaan Benegal who pitched KidSwap received free legal consultations to support their ventures. To learn more about any of these business ideas, take a look at the full video uploaded on the IAGB Youtube channel: https://youtu.be/1s2dkt4eD_4. 
The wonderful and incredibly qualified judges (Thomas Arul: Founder of Bleumi, Katie Quigley Mellor: Program Director of Tie Young Entrepreneurs, Vinit Nijhawan: Managing Director at MassVentures, Nick Patel: Founder and CEO of Wellable https://www.wellable.co/home, and Matthew Lopez: The Law Offices of Matthew Lopez) spent much time deliberating over the winners and insisted on offering awards to every team. 
As was clearly stated throughout the event, every participant was and is a winner. They were all able to gain valuable feedback while spreading the word about their initiatives and getting an incredible head start in the form of prizes. It is important to stress that the primary goal of the Junior Shark Tank is to inspire and encourage young entrepreneurs; it is truly a worthwhile experience for children of all ages. Be sure to take advantage of this amazing opportunity, and encourage the young entrepreneurs in your community to partake in next year's Junior Shark Tank!
–Cynthia Rajeshkanna