IAGB Spotlight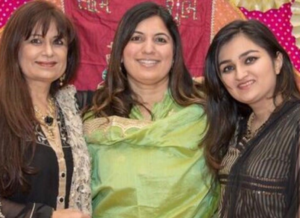 eNews edition shines SPOTLIGHT on an individual (or a team) who has (have) a positive and significant impact on the lives of New England residents and on community organizations.
Women's History Month is a celebration of women's contributions to history, culture and society and has been observed annually in the month of March in the United States since 1987. To honor the Women's History Month, IAGB shines its SPOTLIGHT on three 'everyday' women, the founders of Women Who Win Platform. Ms. Shaleen Sheth, Dr. Deepa Jhaveri, and Dr. Manju Sheth created a platform that brings women of all cultures, industries, and age groups together. 
IAGB: Welcome to IAGB SPOTLIGHT. Fortunately, the IAGB community has had the opportunity to meet and get to about Manju in one of our earlier SPOTLIGHT editions. Deepa, Shaleen – brief us about your life journey so far.
Deepa: I grew up in Mumbai and moved to the US when I was 18. I did my college at University of Maryland. College Park, and then attended Temple University for my DPM degree in Podiatry and finished up my education with Residency years in Florida. I moved to Boston about 15 years ago to practice as a Podiatrist. To be integrated with the Indian American community I joined Indian Medical Association of New England (IMANE) which is where I met Manju which is how I specifically got involved with the women's forum, a subchapter under IMANE. I worked with Manju during this time and since then we always wanted to create a platform with a focus on Women's empowerment, but life just took over and when the Pandemic put us in a lockdown mode Manju, Shaleen and I got together and discussed what could we do, and that is how the idea of Women Who Win came to fruition.
Shaleen – I graduated from Babson college this past year with a major in Finance and Business. While in college, I worked in the marketing office on campus. In this role I had opportunity to interview other students, plus I got a lot of exposure of working on social media platforms and creating content. Also, growing up I had observed mom working in the field of media and was always intrigued by the media world. I felt this was a great way to meet people. I always have been interested in learning people's stories, knowing more about their lives, and learning why they do things they do. So, when Mom and Deepa were talking about working on the concept of Women's empowerment, I was excited to join them, and take on the technology side.   My other passion has been to work in media so this Women Who Win project gave me an opportunity to bring both my passion for tech and media together.
IAGB: How are your roles and responsibilities divvied up between you three?
Shaleen – If I were to name my role it would be the Director of Technology for Women Who Win. I built the website from scratch. It was a labor of love. Deepa and I are managing the day-to-day operations. We together manage the day-to-day posts and coordinate with different writers while at the same time focusing on the growth efforts. My mom, the third co-founder of Women Who Win has been instrumental in finding the right kind of stories and focused on the strategy and expansion. When it comes to story selection, I focus more on the Millennial and Global type of stories while Deepa focuses more on Health and Wellness kinds of stories. So, in a nutshell it does appear like we have designated roles but we are pretty flexible and take up work as and when it comes up.
Deepa: There have been times when situation demanded for us to switch roles but in general, we work in silos as Shaleen mentioned.
IAGB: Women Empowerment can mean many different things. How would you define your underlying motivation about Women Empowerment? 
Deepa: It's true that there are a lot of high achieving women who already get a lot of attention but then there are millions of other women whose achievements fly under the radar. We wanted to bring the story of everyday woman to the forefront. All three of us enjoy learning about people's life's stories. For instance, the story about the breast cancer survivor had so much to offer to our readers, the kinds of struggles she went through and other people can commiserate and have the feel-good kind of vibe. It gives hope to all those people who have gone through tough times and know that there are ways to come out of it. There have been other inspirational stories such as the story about the female pilot and many more. By bringing these magnificent stories out in the sunlight, we have given hope to many women out there – this is about everyday women.
Shaleen – Exactly true and that is why we have the tag line – 'everyday woman dreamer' because we wanted it to be a platform for the everyday woman. We are not unique in the sense that there are many platforms that promote and propagate the message of women empowerment but most of them are focused only on celebrity women in the spotlight, we wanted to be unique in the sense that we offer a megaphone to the voice of everyday woman. The other significance of our platform is that this platform is for all ages. We have stories from older generation that can teach us and then we have stories from girls who are younger than me and who have valuable lessons to offer from their still youthful life. This aspect is unique to us.
IAGB: What is the process of identifying the 'woman' whose story you want to tell?
Shaleen: The process is multi prong. There is self-nomination – where in the women have sent messages to us wanting to share their stories, we have had people who referred to us about women who have interesting stories to tell and then there are those to whom we reached out based on our research and asked them to tell us their stories.
Deepa: Because of my health background I try to reach to people who can share topical stories in this regard. Only this past week we shared a story about allergies and asthma – a concern that a lot of moms have with regards to kids. So, for such topics we reach out to specialists in the respective fields that can have a huge impact on women's health concerns and try to get them address these issues in their articles. The outreach is via email, Facebook, Instagram and sometimes via word of mouth.
Once we decide on the person and the topic, the three of us come up with questions. We curate the questions to make sure that the answers to them reflect information that a lay person can understand. The objective here is to make sure that the article appeals to a broad audience. Once the questions are sent, we give them a time frame in which the contributors are to respond with their answers. We do edit the replies only for length and clarity. We do not change the content knowledge itself. Once the final version is ready, we get their bio and photograph and it's off for publication.
Shaleen: Lot of thought is put in writing up the questions and all contributors have our expectations deck that clearly states the requirements so to that extent we have standardized our process. So very often the editing is limited to some grammatical edits.
IAGB: With what frequency do you publish your stories?
Shaleen: In the beginning it was daily, five days a week. We were uploading a new article every single weekday between August and December on FB, Instagram, LinkedIn and on our website. We had our calendar published so people were expecting our articles and were waiting on it to read. Then once we had built our foundation and had sizable ongoing audience, we pared the frequency down to three days a week. Now we do articles three days a week on FB, LinkedIn, and Instagram and on Tuesdays and Thursdays we moderate Open forums where we do discussion questions. The questions can be simple fun elements like popular Netflix shows or some other casual topics like motivational quotes, news, Q&A. People love to chime in on these discussion forums. The idea behind these forums is to create some engagement with our audiences so we can hear from them on different topics and give people a little break from their day and a chance to engage with others virtually. On these forums the interaction is not just with us but also with each other but in a controlled fashion.
IAGB: Why did you decide to choose stories only from women and how dispersed is your audience base?
Deepa: Our audiences are global. We have audiences from India, Ireland, UK and many other countries in addition to people from US and Canada. Our thought process was that women might feel more comfortable when only women are part of this discussion and are more candid in sharing their concerns and remedies. Many of the topics are gender specific and it is easy to hone on. For example, when we did an article on Podiatry, we focused on specific issues that women tend to have with foot injuries which by its nature is different from issues that men tend to have with their feet.
IAGB: Do you have data as to how many Men read these articles?
Shaleen: Our data does not show which gender is reading more but our Facebook closed group is open only to women. Via this channel we have data that women are engaging actively with our articles. That said, anecdotally I can tell you that we have had some amazing comments, feedback and advice from our male allies. And that is why we have the public page on Facebook, Instagram and LinkedIn where we enable it to be read by all. 
Deepa: Additionally, our website does generate data about the hits on the page and other engagement activity such as time spent, and number of articles opened but it is not gender specific. We do spend a good deal of time studying the analytics.
IAGB: Are you content with the volume of traffic and readership as of today?
Shaleen: We see a lot of returning visitors plus a steady stream of new visitors. We have the audiences that have been with us since beginning – we know for fact that they have stayed, and the number of new visitors keeps increasing as weeks roll by. Overall, we are satisfied.
IAGB: How have you been able to increase readership?
Deepa: I would say mostly every new contributor helps in spreading the word within her own friend circle and community and most of these new readers stay on. 
Shaleen: We share these articles in niche groups, like for example if an article is about health then we share that article in relevant groups where we know that the members of that group have an added interest to read and this way, we captivate a wider audience for our articles. This past week we had an article about Finance, and I tagged a bunch of accountants on Insta and I know a lot of them read it based on comments and data analytics. Some even took pictures of their favorite sections and shared them.
IAGB: Is there a quality check? Have you had situations when you found the responses to your questions not up to your standards that you expect it to be?
Deepa: Fortunately, we did not have a reason so far to be in that situation. Very rarely we have had to tweak or send it back to the contributor for some additional information, but we have had a very good run with all of our contributors.
IAGB: This venture is a nonprofit, but have you thought of ways to monetize it in the future?
Deepa: As of now we are focused on establishing this even more firmly. But once we have a large number of contributions, we might plan on collating them based on the different underlying themes and package them in the form of a book to be published widely. If there is a monetization it will be only done to give it back to women empowerment causes and not for personal enrichment.
IAGB: Will you be adding more personnel?
Shaleen: Presently this project is growing organically and the skills we are employing are our own. But we surely are thinking of hiring interns in near term. In fact, Deepa's daughter has become our defacto graphic designer. Our LinkedIn posts is designed by Maira, Deepa's younger one.
IAGB: What are the biggest hurdles you have faced in regards to this venture?
Deepa: Time management has been our biggest challenge. Trying to do all this along with my full-time day job and managing my family has been challenging. But that said we have worked out a pretty good schedule between the three of us. Largely speaking, we have got things under control for most of the days. 
Shaleen: I have had a steep learning curve since getting on to this project. I had never built a website before, so it really took a lot from me. I remember pulling in 15-hour a day for three consecutive days at the beginning. I went through some hiccups. And of course, time management is also a challenge especially now since I have started to work full time also.
Please visit our website womenwhowin100.com, and to the ladies out there, we invite you to join us, Women Who Win #Dreamcatchers
IAGB: What are the long-term plans?
Deepa: We are hoping that this will be our baby for many years to come. We definitely want to grow our audiences to a much larger numbers and we still have some fresh ideas that we will be implementing in the coming weeks and months. 
IAGB: How many hours a week does this project take from each one of you?
Deepa: Our meetings are three hours a week. Which is when we delegate the work to each other. Me and Shaleen connect many times a week as we put the stories together while Manju is focusing on strategic issues. So, to sum it up it could be considered as a part time job hours, ranging anywhere between 10 – 15 hours a week.
IAGB: Shaleen, have you had any additional challenges in working with mom and her best friend?
Shaleen: It is working great for me. There are things that my mom knows that I do not and then on issues such as technology I am more aware, so we talk and share. Mom certainly knows more about people and has wisdom to share, and I am glad that I get a front row seat to learn from her. 
Deepa: We are blessed with unique set of skills and have tremendous respect for each other so there are not really disagreements but that said we are comfortable to communicate with each other if and when we disagree.
IAGB: How significant has been support from your family?
Deepa: Deepak and Vishaal and my kids have been amazingly supportive especially with time management. Aanya and Myra have some unique skills that we have been able to draw upon and they are keen on helping us in every way they can.
IAGB: Before we wrap up a couple of questions to Manju, the third co-founder of Women Who Win. Manju, as the chief strategist can you elaborate on your near-term and long-term strategic vision to make Women Who Win become more prominent as a reckoning force in the field of women empowerment?
Manju: I would not call myself a strategist but a visionary. I truly believe that every life has a dream and a story to tell so I am led by my instincts and passion for storytelling. I do bring my experience, expertise & knowledge of the community to this platform. I am also a very big dreamer myself so am very focused on the success of this platform.
On that note, we have been asked to host some special empowering events and share our stories on multiple platforms across the globe, so we are looking into that. We have received so many recommendations to write a book. We, have networking and mentoring on our radar too .We also plan to bring some major movers and shakers to our platform soon . It is all work in progress at the moment. This platform has grown exponentially which has been a very pleasant surprise for us. We get so many thoughtful emails everyday and I feel that we are making a difference and inspiring so many women on a daily basis 
It is a wonderful feeling as we all learn from each other, grow together, and feel empowered.
IAGB: It's obvious by the success that your 'mom-friend-daughter' team is working great. Are there any challenges in this dynamic and how do you deal with them? 
Manju: Shaleen always complains that I am a workaholic and do not know how to switch off. I do work a lot in the evenings and weekends as my day job is in medicine. Shaleen has made a very nice work life balance that I lack. She works very hard but gets annoyed as I keep interrupting her previous downtime or 'chilling time' as she is working from home. I am also very timeline / deadline orientated which bothers her sometimes. Deepa is a great mediator. On the plus side, Shaleen is very creative like me and can read my mind and shares my vision. Overall, it is an absolutely joy to work with my daughter and Deepa, my best friend who is like a younger sister. I count my blessings daily.
For IAGB: Sanjay Kudrimoti